Drupal 8's been out for a while now, giving us plenty of time to find things to love and hate about it. But have no fear Webchick is here to help!
Angie Byron will help demystify some of the problems and solutions for Drupal 8. Covering everything from how to overcome those tricky left behind module issues, to stable releases, and the upgrade process in general.
The speaker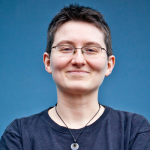 Angie Byron
Director of Community Development
Herder of cats. Drupal core committer. Director of Community Development for Acquia. O'Reilly Media author. Mom. Lesbionic Ace. Nerd. Gamer. INTJ.
The company
Acquia
Acquia provides the leading cloud platform for building, delivering, and optimizing digital experiences.
Global organizations use the Acquia Platform to create a single, powerful digital foundation for delivering world-class customer experiences. With the Acquia Platform, organizations can realize the vision of personalized, contextual, and real-time customer engagement for the right person, at the right time, on the right device. These experiences can be easily deployed and managed at scale, for one to thousands of sites, driving transformative business results at breakthrough speed.