Geographical data is not like plain data. You need to understand how to locate it on a four dimension universe before you can use it properly. Are we prepared to handle geodata right? Do we know how to use it? We cannot decide what kind of geodata comes into our hands. All we have to decide is what to do with the data that is given to us.
The speaker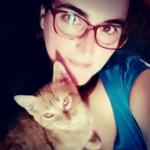 María Arias de Reyna
Software Developer and Metadata shepherd
María works at a maps forge called GeoCat as a metadata shepherd, where she tidies up and classifies data. You may know her from the geodata portal GeoNetwork or the OSGeo foundation. She can also been seen on many local events related to tech, geo and women. She enjoys tech conferences, beer and geeky things. And cats. Above all things, cats.
The company

GeoCat
Established in the Netherlands in 2007, GeoCat offers cutting-edge, customized software and services that make publishing geospatial data on the Internet easier and more efficient. Operating in the fast growing market of Spatial Data Infrastructure (SDI) and geospatial-enabled technologies, GeoCat builds sustainable, evolving applications following the Free and Open Source Software philosophy and open standards.