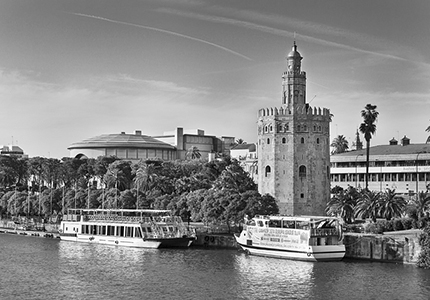 Are you coming to Seville for DDD? Is it your first time in the city? This is a great opportunity, not only to have a nice time getting to know more about Drupal -your favourite CMS- and meeting everyone in the Drupal Community, but also spending time wandering around the city of Seville.
Here you are the top ten of places you should visit these days.
Cathedral of Seville and the Giralda tower. The Cathedral is the third biggest monument of the world and it was declared World Heritage by Unesco in 1987. Its most famous places are the Giralda Tower, Patio de los Naranjos and Real Chapel.

Real Alcazar. It is the Royal Palace which has been active more time in Europe. Its origin goes back to antique Roman Hispalis and it is well-known by its Muslim origins. Some people got to know it through some Game of Thrones episodes as some of them were shooted there!

General Archive of the Indies. It was built during Carlos III Kingdom and it was dedicated to keep all Spanish colonies files and documents . It also counts with many pieces of great historical value, as texts signed by Cristóbal Colón, Fernando de Magallanes, Vasco Núñez de Balboa, Hernán Cortés y Francisco Pizarro.

The Wall and Santa Cruz Neighbourhood. Seville had seven kilometres of wall, although a part of it had to be demolished at some point. However, it is almost completely preserved at the moment. On the other hand, walking along Santa Cruz neighbourhood is a delightful and wonderful experience. This walk ends in Murillo Gardens.

Gold Tower. It located at the left riverside of Guadalquivir river, nearby Maestranza bullring. It is an Almohad style tower and it was used both as chapel and as prison.

Triana Neighbourhood. Located in the west of the city, its separated from the old town of Seville by the Guadalquivir River and it is one of the most famous neighbourhoods  since lots of bullfighters, flamenco singers and many other artists such as Antonio Canales, Marifé de Triana, Remedios Amaya, María Jiménez or Isabel Pantoja, were born there.

Alfalfa Neighbourhood and Salvador Square. These two places are synonymous of friends meeting point, as they count with lots of bars where you can have a beer and spend a great time. Moreover, in this neighbourhood you can find Pilato's House, one of the most marvelous ancient houses in Seville, with an spectacular typical Andalucian patio.

Metropol Parasol. Also known as 'Seville mushrooms', this modern structure located right at the historical city centre is an obligatory visit in Encarnacion Square in order to enjoy magnificient 360 sights.

Hercules Boulevard. Well know as  an 'alternative' place to go out, it counts with  lots of bars and restaurants and a social centre that organizes cultural activities for children and families.

Spain Square and María Luisa's Park. It is one of the most spectacular architectural works designed by the Spanish Aníbal González. This monumental square its built in marble, ceramic and bricks, and it is famous for being the scenery of many films. María Luisa's Park is commonly used to exercise outdoors.