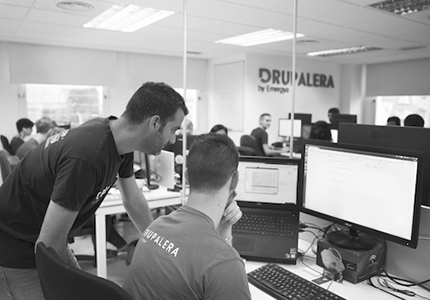 We know that you want to make the most of Drupal Dev Days, as a Drupal expert. Here, we give you some tips to enjoy the event fully. 
Sprint Area
In the Sprint Area, Drupal developers choose an issue and work on it. In this area, you can solve doubts and a Drupal contributor may cheerfully help you to solve these troubles. It is a place where, normally, Drupal developers introduce beginners to Drupal. Also, in this area, people usually share knowledge about Drupal and developers do commits in order to get credits. 
Collaborating and networking are usually in this area. Also, at Spanish events, you can find and join  a group called 'Spanish Army', Drupal developers who help in everything they can. 
Debates about Drupal
After being in the Sprint Area, some expert developers chill out with a cup of coffee and talk about Drupal. Troubles, solutions and other issues are discussed in these meetings where every opinion is welcomed. Leads and businesses may happen here too. 
Workshops and mini meetings
During Drupal Dev Days, there are workshops that you may attend where people discuss different topics. Experts and developers show their problems which they try to solve with their own knowledge. Every comment might be the key to contributing to Drupal development. 
Moreover, there are mini meetings in order to explain a problem.  From these, other meetings or talks appear for following events. 
Final party
Drupal Dev Days finish with a big party where there are games, people share out stickers and every person has fun. 
Keys of Drupal Developers Days are feedback, networking and sprints. Talks are less important at this kind of event and knowledge stands out above everything. Friendship and fun are essential to having a great time.