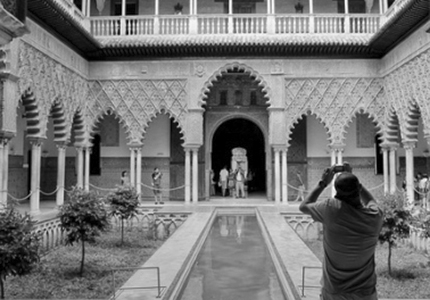 Seville is one of the most beautiful and historic cities in Spain. Moreover, its historical centre is one of the best preserved in our country, so there are many places where you must take a photo.
Plaza Santa Marta : this is near the Cathedral and you can take a photo everywhere.

Calle Mateos Gago : you will be able to take a wonderful photo of the Giralda tower.

Santa Cruz District: its streets are narrow and wonderful, perfect to make a marvelous photographic report.

Avenida de la Constitución: from Puerta Jerez, there is a delightful walk and a perfect view of the Cathedral.

Puente de Triana: one of the bridges of the city of Seville and the most photographed for its beauty and the view of the Guadalquivir river.

Plaza del Pan: a typical square of the city centre, plenty of bars and people.

Plaza España: stage of a lot of famous films like Star Wars, this place is one of the artistic creations of Anibal González, one of the most famous Spanish architects.

Parque María Luisa: a green fine decoration for your historical photography report.